Autumn recipes!
Autumn recipes
When the weather gets cooler, and the urge for comfort food hits, chase away the autumn chill with these sensational autumn dishes. Cosy up in the kitchen and make the most of seasonal flavours that everyone will love.
Butternut pilaf with almonds and Greek yogurt
The wonderfully fragrant smell of spices cooking recipe will really get you in the mood for food with this delicious pilaf.
This is a quick easy recipe to make but the resulting dish is warm and comforting and is packed full of vitamins and goodness.
Radishes are delightfully low in calories and being a low GI food help to fill you up and provide you with slow release energy.
This is a great meal for all the family – though you may like to serve the youngest in the family before scattering the chopped chilli on top!
Serves: 4
Preparation time: 10 minutes
Cooking time: 20 minutes
You'll need:
2 tbsp olive oil
2 tbsp butter
1 onion chopped
3 cloves garlic sliced
1 tbsp cumin seeds
1 tbsp fennel seeds
1 tsp black onion seeds
400g basmati rice
400g pumpkin diced
800ml hot chicken stock
Salt and pepper
100ml Greek yogurt
100g radishes sliced
100g roasted almonds crushed
Small bunch mint roughly chopped
Small bunch coriander roughly chopped
1 chilli chopped
What to do:
Heat the oil and butter in a large saucepan with a tight fitting lid, add the onion, garlic, cumin, fennel and black onion seeds, cook for 3 minutes, stirring every now and then until the onions are translucent. Now add the rice and cook for a further 2 minutes until the rice has also turned translucent, stirring the rice all the time. Add the pumpkin and stock, bring to the boil and turn down the heat to a gentle simmer. Season and place the lid on the pan and leave to cook without stirring for 10 minutes, or until all the stock has been absorbed, turn off the heat and leave to stand for 5 minutes to finish cooking.
Remove the lid and give a gentle stir. Top with a spoonful or two of Greek yogurt and scatter the sliced radishes and remaining ingredients over the top. Serve at once.
Chicken stew with leeks & Chantenay
Turn a dreary day into a special occasion with a bowl of warm, hearty stew, always a welcome sight on a cold day.
Serves: 4
Preparation time: 20 minutes
Cooking time: approx 1 hour 30 minutes
You'll need:
8 chicken thighs
2 tbsp flour, seasoned with salt & pepper
1 tbsp olive oil
2 large leeks, timed and sliced into chunks
250g Chantenay, whole & unpeeled
2 cloves garlic, crushed
2 tsp dried mixed herbs (i.e herb de Provence)
600ml chicken stock
What to do:
On a large plate roll the chicken pieces in the seasoned flour, making sure they are well coated all over.
Heat the olive oil in a large flameproof casserole or large saucepan with a lid. Fry the chicken pieces a few at a time until they are golden brown all over, transferring to a plate whilst you cook the remaining pieces.
When the chicken has all been fried, turn the heat down and add the leeks and Chantenay. Fry for a couple of minutes, then return the chicken to the pan, along with the herbs and garlic.
Add the stock, bring up to the boil then cover with the lid. Reduce the heat and simmer gently for around and hour and a half, or until the chicken is just starting to fall off the bone. If the sauce is a little thin remove the lid for the final 30 minutes of cooking to allow it to thicken slightly.
Serve with crusty bread, mashed potato or couscous.
Slow cooker pork, shallot, red pepper goulash
A comforting and hearty Hungarian-inspired slow cooked stew to chase those winter chills away.
Serves: 4
Preparation time: 15 minutes
Cooking time: 8-9 hours
You'll need:
1kg diced pork shoulder, diced into 3cm pieces
2 tbsp olive oil
400g shallots roughly chopped
2 red peppers, sliced
3 cloves garlic, crushed
2 tbsp mild paprika (unsmoked)
2 tsp caraway seeds
400g can chopped tomatoes
300ml water
salt and freshly ground black pepper
150ml sour cream
What to do:
Set a large pan over a high heat on the hob. Add the olive oil and brown the pork in batches, transferring to a plate as you go.
Once the meat has all browned, return it all back into the pan, along with any juices from the plate. Add the shallots and peppers and fry together for couple more minutes. Add the garlic, paprika, caraway, tomatoes and water and season well with salt and freshly ground black pepper. Bring up to a simmer then transfer to the slow cooker and leave to cook on high for about 8-9 hours or until the meat is really tender. Alternatively, cover with a tight-fitting lid and slide into an oven set to 100°C (fan temperature) for the same amount of time.
When cooked divide between bowls and add a dollop of the sour cream on top.
Serve with crusty bread, plain steamed rice or even pasta.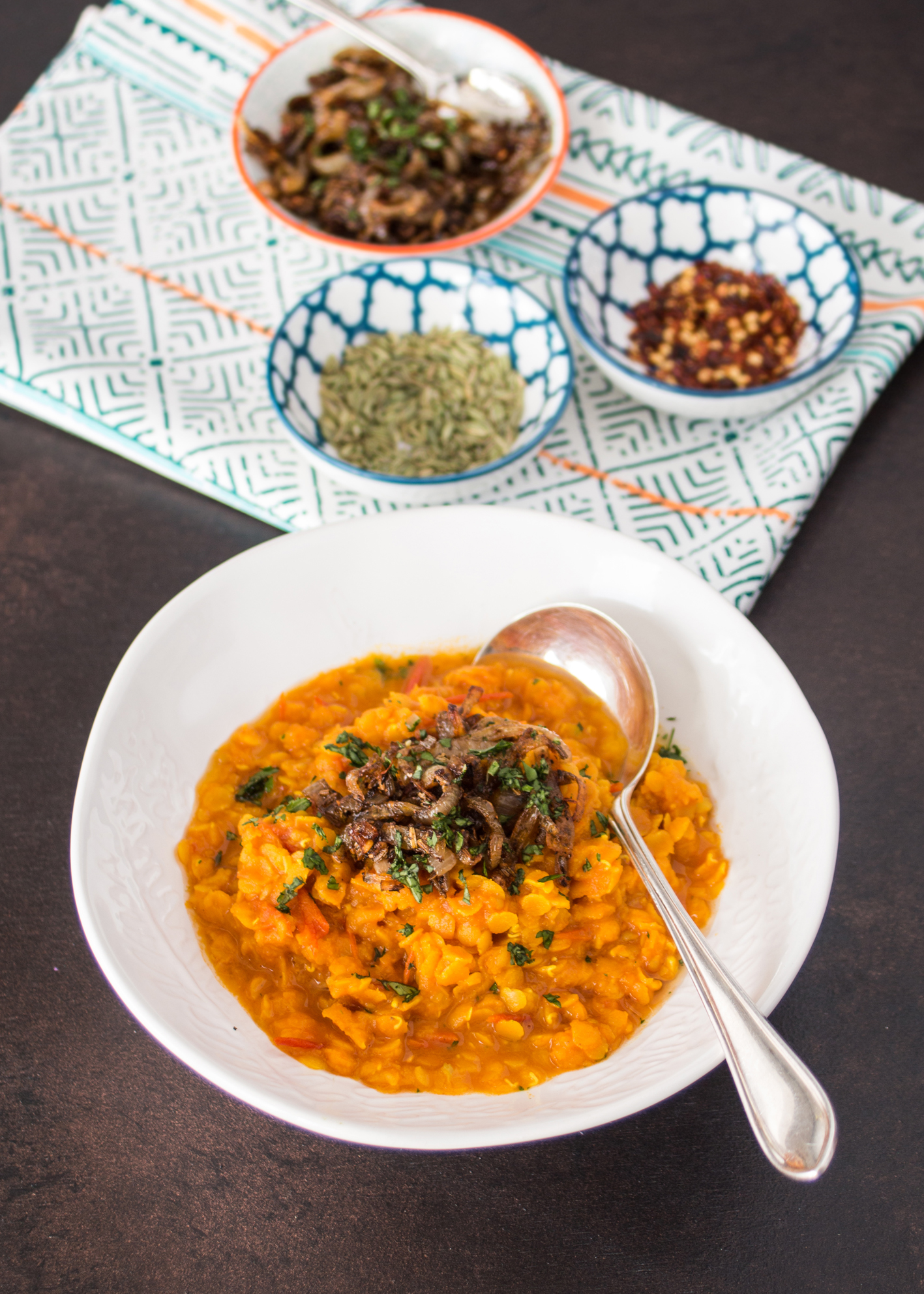 Isle of Wight Tomato dhal with shallot tadka
This simple red lentil dal recipe is comforting and easy to make. The fragrant cumin, coriander seeds and the sweetness of cinnamon will make beautiful aromas that fill the air.
Serves: 4-6
Preparation time: 20 minutes
Cooking time: 1 hour
You'll need:
For the dhal:
500g vine tomatoes, quartered
1tsp sugar
Salt & Pepper
2 tbsp olive oil
2 garlic cloves, crushed
2 tsp ground turmeric
2 tsp ground coriander
200g red lentils, rinsed
½ tsp salt
For the shallot tadka:
2 tbsp olive oil
1 tsp fennel seeds, 1 tsp cumin seeds and ½ tsp chilli flakes pounded together in a pestle and mortar
2 echallion shallots, sliced
What to do:
Preheat the oven to 190 C
Spread the quartered tomatoes on a baking sheet and sprinkle with sugar, salt and pepper. Drizzle with 1tbsp olive oil and bake in the oven for 30 minutes. Let the tomatoes cool a little and then tip them into a deep bowl and roughly blend with a stick blender.
Heat 1 tbsp oil in a large saucepan. Add the garlic and spices and stir well for a couple of minutes then add the tomato mixture. Bring to a simmer, then cook, for 10 minutes before adding the lentils and salt. Pour in 800ml water, then bring the mixture back to a simmer for 20 minutes or so. The lentils should be cooked and the dhal thickened by now. It will thicken further if you leave it to stand for a few minutes. Adjust the seasoning
Meanwhile, to make the tadka, heat the oil in a frying pan, add the spices and cook for a couple of minutes, stirring now and then, until the mixture smells toasty. Add the shallots and cook, stirring often, for about 10 minutes or until they are soft and lightly browned. Season with a little salt.
Pour the dhal into a serving dish, top with the onion tadka and serve.
Fiery asparagus and chicken pasta
This is a recipe all of the family will love. You can reduce or omit all of the chilli altogether if your taste buds can't handle the heat. Either way this recipe is guaranteed to become a family favourite.
Serves: 4
Preparation time: 5 minutes
Cooking time: 15 minutes
You'll need:
1 bundle asparagus
4-5 chicken thighs, cut into 6 pieces
1 tbsp olive oil
100g smoked pancetta or bacon, cubed
3-4 shallots, sliced
2 cloves garlic, crushed
1 green chilli, finely chopped or 1 tsp chilli powder to taste
1 tbsp rosemary, very finely chopped
1 400g tin chopped tomatoes
1 tsp sugar
salt and pepper for seasoning
300g dried spaghetti pasta
50g parmesan cheese, grated
What to do:
Trim the ends of the asparagus then chop the spears into 4-5 pieces.
Fry the chicken for 5-6 minutes in a hot pan with some oil then add the pancetta, shallots, garlic, chilli and rosemary and cook over a medium heat for a further 3-4 minutes.
Add the asparagus and chopped tomatoes then simmer for another 3-4 minutes. Season with salt, pepper and sugar.
Meanwhile, cook the pasta to the packets instructions in boiling salted water, drain then add to the sauce, grate over some parmesan cheese before serving.
BerryWorld raspberry brioche pudding
This pudding has a sharp fruity flavour from the raspberries with lovely sweet brioche. Try with ice cream for added indulgence.
Serves: 8
Prep time: 15 mins
Cooking time: 35 mins
You'll need:
45g butter
10-12 slices brioche
300g raspberries
125g sugar
4 eggs
500ml double cream
300ml milk
1 orange, zest only
What to do:
Butter the brioche and cut the slices in half diagonally. Lay half of the slices in the bottom of a large ovenproof baking dish so that the corners overlap.
Mash half of the raspberries with 3tbsp of sugar and spread over the brioche. Arrange the rest of the slices over the crushed raspberries then scatter over the remaining whole raspberries, tucking them in between the slices and nestling in any crevices.
Beat the eggs in a bowl or large jug then beat in the remaining sugar, cream, milk and orange zest until well combined. Pour all over the brioche.
Heat the oven to 170C/150C fan and allow the pudding to soak while the oven comes up to heat.
Once hot cook for 35-40 minutes so that the centre of the pudding has a wobble but there's no runny liquid.
BerryWorld Strawberry and Rhubarb Crumble
Roughly chopped fruit with a dash of ginger wine and a crunchy bar crumble topping! This pudd is a great way to warm up on a chilly night.
Serves: 6
Preparation time: 15 minutes
Cooking time: 40 minutes
You'll need:
500g rhubarb
100ml water
100 grams golden caster sugar
1 tbsp Stones ginger wine
250g strawberries
75g butter
175g self-raising flour
1/2 tsp ground ginger
60g Demerera sugar
1 Crunchie bar, crushed


What to do:
Preheat your oven to 180c.
Trim and cut the rhubarb and place half of it in a saucepan with the golden caster sugar, the water and the ginger wine and simmer gently until syrupy.
Halve the strawberries the place all the fruit and rhubarb syrup into a baking dish.
To make the crumble, put the butter, flour into a bowl and rub with your fingers until it resembles bread crumbs. Stir in the sugar, ginger and the crushed Crunchie bar and sprinkle generously over the fruit.
Bake for 30 minutes until golden and bubbling.
For more recipes like these check out our websites –